NCM Aspen Plus – Fat Tyre Electric Bike – 48V 16Ah 250W 768Wh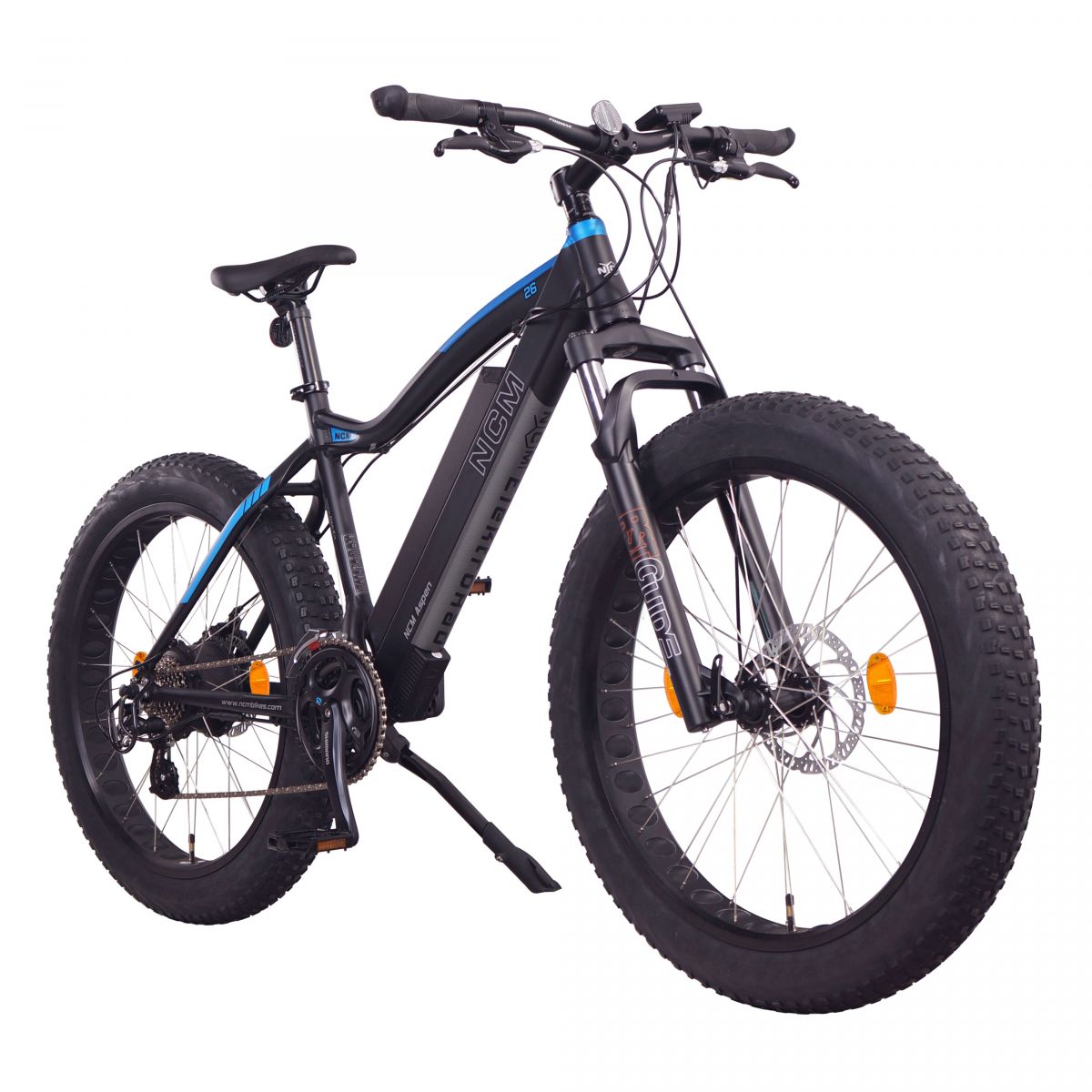 NCM Aspen Plus 26" E-fat MTB 
FOCUS ON QUALITY: Our exclusive E-bike frames and components have been rigorously tested to guarantee quality. We combined our manufacturing knowledge with Shimano, Tektro, and other top cycling brand components to create one of the best value electric mountain fat bikes on the market.
A TOP PERFORMER: Upgraded from the popular base model, the RST fork is hydraulic with 75mm of travel and has a lock-out feature; the Shimano Acera crankset and rear derailleur offer 24 speeds for even more fine-tuning; and the Tektro disc brakes are hydraulic with 180mm rotors for incredible stopping power and heat dissipation.
A STURDY FRAME: The 100% aluminium alloy frame and fork keep weight down while ensuring durability.
MORE DISPLAY FUNCTIONS AND MORE BATTERY: Our proprietary Das-Kit C7BB LCD display shows even more indicators than the L7B, including a trip distance function that does not reset automatically when the display turns off. The DeHawk removable 48V lithium-ion battery now allows for up to 110km of power-assisted travel with its 768Wh capacity. An integrated USB-port lets you charge your smart devices on the go.
POWERFUL DRIVE UNIT: Our custom 250W Das-Kit X15F rear-drive motor delivers exceptional in-class torque to conquer all obstacles.
WE CARE ABOUT SAFTY: Riding a EPAC is more fun while it is safer, so with that in mind, we selected the very responsive Tektro Disc brake for both front and rear. We tripled the safety with a sensor on the brake lever.

Product Description
The NCM Aspen+ is an E-Fat bike designed to tackle all conditions. A powerful motor and high capacity battery make it great for commuting to work, long leisure rides or intense sessions in the great outdoors. Designed with durability, style and comfort in mind, it's far more than its classification as a Fat bike. Great components from top cycling brands guarantee safety and a smooth ride. A built-in USB port gives you the freedom to have a long day out, ensuring that you never miss anything important because your smart devices ran out of power.
Safe braking and good riding performance
The Aspen+ keeps everything people love about the highly popular Aspen, and then improves them. Most of all, we've improved performance: an upgraded RST hydraulic suspension fork now has 75mm of travel and a lock-out function; a Shimano Acera crankset and rear derailleur with 8-speeds offer even more versatility; and the Tektro brakes are now hydraulic with 180mm rotors to stop you on a dime. That's not all, though, as we've put even more juice into the battery for a total of 768Wh, and we've upgraded the display for more functions and to be more convenient with its buttons and screen now separable. The Aspen is already a high performer, but if you feel like you need a little plus, our NCM Aspen+ has more than enough to satisfy even the hard-core trail blazers.
Das-Kit System

The Patented DAS-KIT X15F Brushless Rear-Drive Motor has top-of-the-market features:
high torque rating for E-bikes on the European market.
great heat dissipation to allow for long run times at max. power
low maintenance
highly efficient
compact and seamlessly integrated into the rear hub
Rated at the maximum 250W allowed for E-bikes in Europe, the X15F is highly reliable and has plenty of power to conquer all challenges.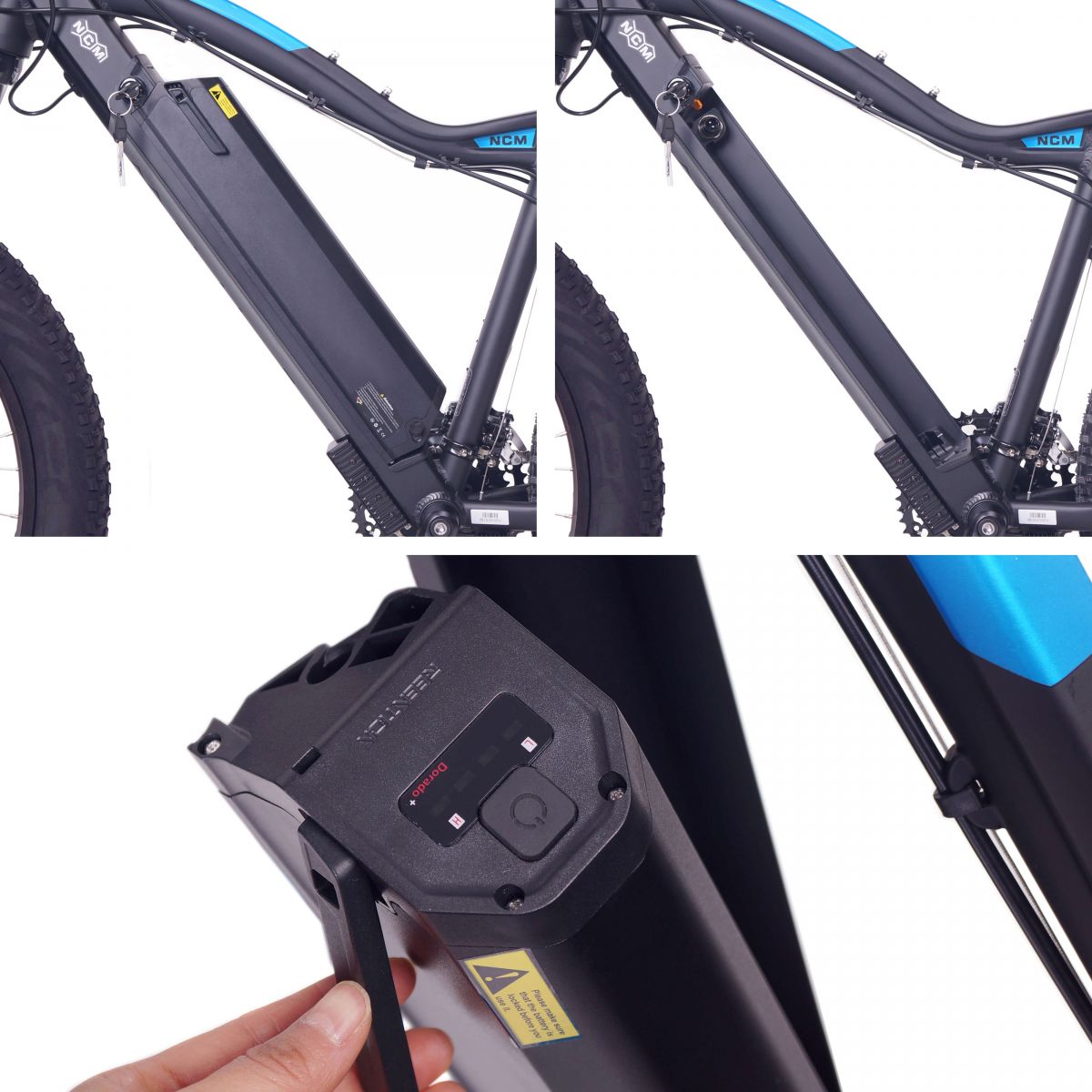 INTEGRATED BATTERY improves upon the standard model and blows away the competition
rated at 48V to provide high output when needed.
over 768Wh capacity for extended usage
up to 110km of pedal-assisted travel in Eco mode (depending on conditions)
ntegrated into the frame for better aesthetics
easily removable so you can charge it anywhere
a built-in USB port rated at 5V
With this battery, you can take your E-bike on even longer rides without worrying about running out of power for the motor or your mobile electronics. Stay connected wherever you are.
Quality inspection and final adjustment:

In order to ensure our high quality standard, our bicycles are subjected to a functional test at the factory. This can lead to dust deposits on the tyres and the seat post. Our bikes are only delivered pre-assembled, a final fine adjustment and inspection by the buyer or a third party is necessary (costs incurred for this cannot be covered). Before driving, please check all screws for strength and carry out a fine adjustment of the gears and brakes. Check the tyre pressure. Depending on the bicycle model, the final assembly and inspection of the components should take between 60 and 90 minutes.
The brand introduces itself:

NCM Bikes, founded in 2014, has quickly become one of the largest pedelec and e-bike brands in Europe with the goal of expanding the market significantly in the near future. NCM is the perfect brand to start your pedelec experience whether you are an avid cyclist or a relative newcomer, we are committed to providing you with a range of high quality.. Our innovative technologies ensure that we can differentiate ourselves from the competition and continue to offer the latest technologies. Our goal is to help improve the environment through an friendly driving experience and the promotion of a fun and active lifestyle.
NCM Aspen 26" E-fat MTB 48V 13Ah 250W
General Information
Weight: 26"= 30kg
Type: E-Fat Mountain bike
Wheel size: 26"
Load capacity: Max. 120kg
Maximum speed: 25km/h
Electric parts
Display: Das-Kit, C7, LCD, 6 Assistance levels, up to 6km/h power assist walk
Controller: Das-Kit, CT5-I5, 48V 18A
Motor: Das-Kit, X15F, 48V 250W, 25km/h, rear hub motor
Battery: i5-4816P, 48V 16Ah, 768Wh high power Panasonic cells incl. USB port
Front/Rear Light: Front/rear Cateye reflectors. Lights not included, must be purchased separately
Bike parts
Frame: Aluminium 6061, 26" 480MM

Fork: Fork RST, GUIDE-TNL-26" hydraulic with lock-out

Brake Lever: Tektro, hydraulic with brake sensor on the both sides

Brakes F/R: Hydraulic Tektro disc brakes

Crank: Shimano, Acera M361

Front Derailleur: Shimano,Altus M310, 3-speed

Rear Derailleur: Shimano,Acera 8-speed

Tire: CST, 26"*4.0

Saddle: Selle Royal, black

Seat Post: Promax SP-252, aluminum 30.9*MM diameter

Grip: VVELO, ergonomic, black/grey (synthetic)

Pedal: Wellgo, B087, black
Warranty
1 year warranty on all electronic parts (including battery, motor, controller, display, lights)
2 year warranty on the bike frame
Apart from manufacture defects that could be present, parts that wear due to normal use (such as tyres, brake pads, chains, etc) are not included in the warranty but maybe replaced on a case by case basis within the first 6 months.
​​​​Disclaimer: Once you received the e-bike, we recommend to have it assembled by a professional in bike shops near you and also get your bike serviced after 1 month of use to ensure all aspects of the bike are set and calibrated correctly.​
Please note: In order to maintain a high-quality standard, we do a practical work-through of all our E-bikes in our factory; this can cause deposits of dust on the tires and seat post. Our bikes come mostly pre-assembled but may require a final assembly (based on product purchased) and inspection to be performed by the customer. Check all screws and adjust the gear and brakes. Check tire pressure. Depending on level of pre-assembly, end-user installation and inspection of parts should take no longer than 10 minutes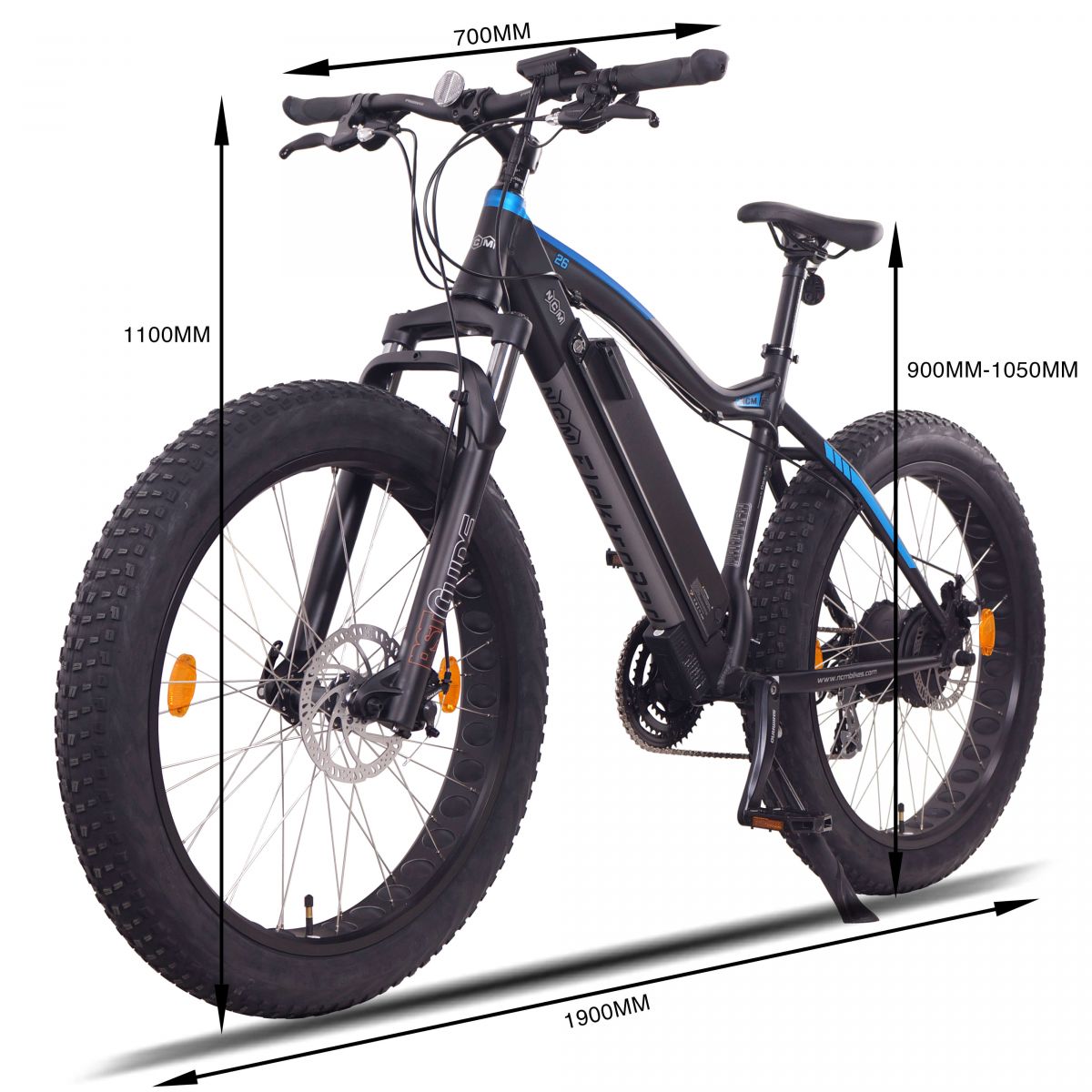 ​